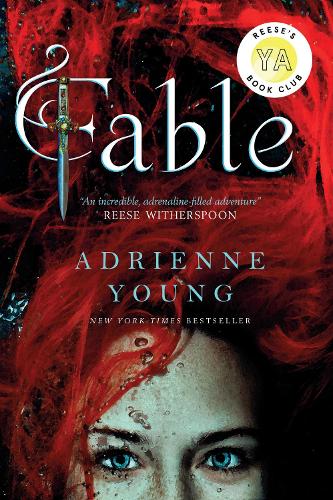 Title: Fable
Author: Adrienne Young
Publisher: Titan Books
Release Date: January 26th, 2021
Rating: ★★★
Goodreads | Waterstones | Hive | Bookshop.org
*・。゚Please consider supporting your local indie bookshop – ask if they have this in stock! ☆゚.*・。゚
I was approved to review a digital review copy of this book on NetGalley in exchange for an honest review. This review will be cross-posted on NetGalley and Goodreads.
---
Synopsis
For seventeen-year-old Fable, the daughter of the most powerful trader in the Narrows, the sea is the only home she has ever known. It's been four years since the night she watched her mother drown during an unforgiving storm. The next day her father abandoned her on a legendary island filled with thieves and little food. To survive she must keep to herself, learn to trust no one, and rely on the unique skills her mother taught her. The only thing that keeps her going is the goal of getting off the island, finding her father, and demanding her rightful place beside him and his crew. To do so Fable enlists the help of a young trader named West to get her off the island and across the Narrows to her father.
But her father's rivalries and the dangers of his trading enterprise have only multiplied since she last saw him, and Fable soon finds that West isn't who he seems. Together, they will have to survive more than the treacherous storms that haunt the Narrows if they're going to stay alive.
Welcome to a world made dangerous by the sea and by those who wish to profit from it. Where a young girl must find her place and her family while trying to survive in a world built for men. Fable takes you on a spectacular journey filled with romance, intrigue, and adventure.
(Taken from Goodreads)
---
The Book Review
I'm back with more seafaring galore from Titan Books! After reading and reviewing All the Stars and Teeth, there was no way I was going to let this opportunity slip. I should probably rebrand as a nautical literature appreciation blog.
Thank you, Sarah and Titan Books, for granting me an ARC of Fable! While I overall enjoyed the book, my expectations (especially after AtSaT) fell a little flat. Let's find out why!
Trigger Warnings: Violence, blood, murder.
P.S: For those who were wondering, this is what a Lorcha more or less looks like. I think its origins are Chinese.
What I Liked
Going through Goodreads, the world of Fable was criticised as "generic" and "unoriginal". To be honest, I think there is no strong need to come up with an exceptionally unique world when 90% of the story happens on the high seas and in port cities. Although it was somewhat simplistic at times (so much can happen out at sea beyond storms, like pirates, famine, malady, to mention but a few), I massively appreciated Fable for the care and attention the author put in using correct nautical terminology and recreating the feel of a ship faithfully. I could feel the burn of the ropes, the flap of the sails, the kiss of the sun and the sting of the cold water – what an experience!
Individually, each character presented a multi-layered personality and original traits. Each had something going for them, stories and secrets that are not revealed. I was hooked! I wanted to know more about them, their stories, what brought and kept them together. Particularly, I liked Fable herself: she's tough as nails but hasn't given up on her softness, which is an incredibly brave choice. "Found family" is also a trope I don't see often, so that was a definite plus. The author manages to strike a good balance between wholesomeness and hard, gritty reality.
Overall, this was a quick, enjoyable read that got me out of a reading slump! The action in this novel really kept me on the edge of my seat: intense, fast-paced, bloody. WOW. I didn't expect it just by looking at the cover, but it definitely did not disappoint. It added some pacing to a story that otherwise risked getting too bogged down in brainy intrigue and money exchanges.
What I Liked a Little Less
Fable is a gem sage! Cool! Now what? Not enough importance is placed on Fable's ability, making it seem somewhat superficial. If taken out, the story could unfold almost exactly in the same way. It felt very much like, "this independent, smart, resourceful woman who can deep dive, survive poison, fight and reach all her goals and has special heritage and this badass scar and unique red hair can also do this". I also didn't really understand the whole controversy around gem sages; surely guilds would like to protect them to bring more profit to their business?
While characters individually are interesting, the web of relationships among them feels thin. I would have liked more time and hardship to make the crew of the Marigold bond together. True, there is a storm, how much harder can hardship be? But there isn't a lot of bonding to be done if Fable spends most of it locked below deck. There is literally a 180° turn in the crew's attitude towards her; the love confession genuinely jumps out of the blue and races past so fast it left me more confused than satisfied.
Fable's relationship with her father was… very unclear. Whether this was the purpose or not, it ended up being quite underwhelming. If Saint cared about Fable, no one in their right mind would have left their daughter (still a minor) on an island full of thugs. Even if they did, he isn't very consistent with how he wants Fable to grow: first he wants her to toughen up, then when she puts into practice what he has taught her and uses his weakness against him to reach her own goals, he basically goes "Well, I don't like that". Surely that shows she can survive in a tough world? I get that the author was probably aiming to portray Saint as a man who, under all the scheming and business genius, is fallible and makes mistakes, but I think it could have been handled a bit more coherently.
For half the book, I was convinced the goal was "finding Saint", but this is reached exactly at the halfway mark. While it was cool to feel the wind being taken out of your sails just like Fable, it didn't do wonders in terms of narrative structure. The story became a bit like a ship without a helm: from a clear and charted direction, it turned into "(mostly unfortunate) things happen to a bunch of people". It felt more like a long character arc than a story with a clear goal. Not that that in itself is a negative thing, but the story is not set up as such from the beginning. This is also why the ending, while certainly a plot twist, reads exactly as one: a plot twist and not an ending. There just isn't enough story-focused build-up to it; it's very much a "another thing just happened to these people."
Although this exciting YA fantasy has a lot going for it, I feel it would make a better screenplay than a novel. Great action, interesting characters and potential for an intricate tale of intrigue and subterfuge, but unfortunately all within a weak framework. Had Fable's goal been reached around the 80% mark, it probably would have given the story more time to breathe and unfurl, and solve most of my issues with it. Notwithstanding, I am curious to see where the second instalment will take us and what other secrets it'll uncover!
---
Recommendations
Would I recommend this book? To younger readers, yes.
Other books like this: I mentioned it a couple of times, so why not go check out All the Stars and Teeth by Adalyn Grace?
(Link redirects to Goodreads)
---
I've set up a ko-fi account to support my expenses, as finances are a bit uncertain due to Covid. If you like what you see, I would appreciate it if you could pay it a visit. No worries if you can't donate right now! Take care of yourself 💗