This meme hosted by Bookshelf Fantasies is so cool! From the original post:
"Shelf Control picks will be books that I already own — either physical copies from my overflowing shelves, or one of the many unread titles elbowing each other out of the way on my Kindle."
What will be included in each post is:
Title metadata (essentially)
How I got it
When I got it
Why I want to read it
You can find last week's post here.
Without further ado, I present you this week's pick!
---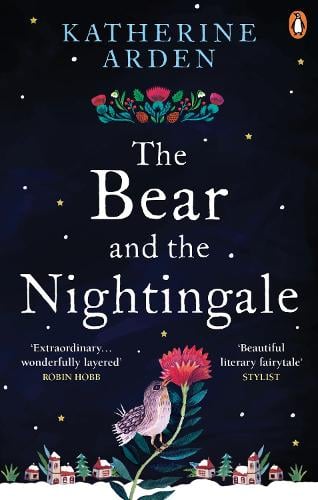 Title: The Bear and the Nightingale
Author: Katherine Arden
Publisher: Del Rey Books
Year Published: 2017
Synopsis: At the edge of the Russian wilderness, winter lasts most of the year and the snowdrifts grow taller than houses. But Vasilisa doesn't mind—she spends the winter nights huddled around the embers of a fire with her beloved siblings, listening to her nurse's fairy tales. Above all, she loves the chilling story of Frost, the blue-eyed winter demon, who appears in the frigid night to claim unwary souls. Wise Russians fear him, her nurse says, and honour the spirits of house and yard and forest that protect their homes from evil.
After Vasilisa's mother dies, her father goes to Moscow and brings home a new wife. Fiercely devout, city-bred, Vasilisa's new stepmother forbids her family from honouring the household spirits. The family acquiesces, but Vasilisa is frightened, sensing that more hinges upon their rituals than anyone knows.
And indeed, crops begin to fail, evil creatures of the forest creep nearer, and misfortune stalks the village. All the while, Vasilisa's stepmother grows ever harsher in her determination to groom her rebellious stepdaughter for either marriage or confinement in a convent.
As danger circles, Vasilisa must defy even the people she loves and call on dangerous gifts she has long concealed—this, in order to protect her family from a threat that seems to have stepped from her nurse's most frightening tales.
(Taken from Goodreads)
How I got it: Secret Santa present.
When I got it: Christmas 2019.
Why I want to read it: I got to this book because I bought the third in the series without realising that it was part of a series 😂 I was really attracted to the folklore, magic and witchy elements. When I was a child, my grandpa would read me Russian fables before sleep, so I'm especially fond of them. When I saw the Russian folklore element of this series, and how it's suspended between fantasy and magical realism, I knew I had to read it!
---
Any books sitting on your shelves you're itching to read? Tell me about them in the comments!
---
I've set up a ko-fi account to support my book expenses, as finances are a bit uncertain due to Covid. If you like what you see, I would appreciate it if you could pay it a visit. No worries if you can't donate right now! Take care of yourself 💗