Yes! Another book meme! I can't get enough of them!
This one is hosted by A Little But a Lot and runs every Sunday. The setup is easy: pick six books following the prompts published on their blog.
This week's prompt is: Favourite series.
I'm not sure how the host defines "series", so I'll intend it as "any book that doesn't stand alone but has a sequel of some kind". This means that anything from duologies up is fair game.
Here are my six picks! You may have probably guessed a couple of the items on this list already, as you've seen me ramble about them almost all the time 😅
---
1. Cronache del Mondo Emerso by Licia Troisi (Trilogy)
You've seen me post about this Italian series a few times now, so you're already aware that this was my first experience of "adult" writing. Fun fact: I started reading this series from Book 2, got curious, found Book 1 and re-read everything in the right order.
2. Gentleman Bastard by Scott Lynch (Quartet?)
You have definitely seen me post about this series everywhere. I love it. It's so much fun, action with and bromance. This was one series I always found time to read for pleasure while completing my BA in English Literature. I had all the books on my kindle, so I'd prop it on the gym treadmill or cycle machine (what's it called) and run/cycle for hours while reading. I remember I finished the third book in record time because of this. The fourth book has in been in the works for a while now, and while the urge to scream is high, I appreciate the time the author is putting in crafting the final book. I'll just be all the more excited to read it once it's out.
3. Daevabad by S.A. Chakraborty (Trilogy)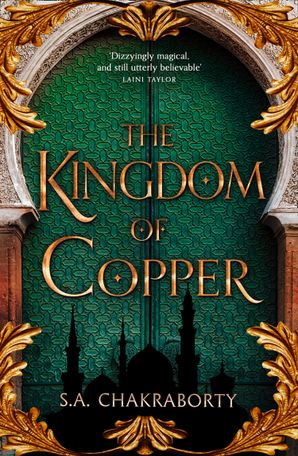 This one is a recent favourite, as I published the review of City of Brass only last month. I'm quietly going through The Kingdom of Copper and wow. I just love being in this magical universe.
4. Six of Crows by Leigh Bardugo (Duology)
It's queer, full of action and wildly inventive. Lots of love for this short but intense series!
5. Mercy by Mirka Andolfo (Hopefully lots of 'em?)
This is another recent favourite by Italian comic artist Mirka Andolfo. It's amazing fantasy Victorian horror, with a generous glop of mystery. Intrigue, strong characterisation, powerful female lead, gritty horror and dark magic. What's there not to love? It's currently among my favourites because I'm extremely curious to know what Lady Hellaine will do next! I hope I will get a chance to review this series soon (I prefer reviewing comics in batches of three/four issues given their format).
And as a side note – the author is amazing, full of wit and spirit, and I'm eagerly anticipating one of her new works, Sweet Paprika Devil, because from the sketches it looks like such a wholesome story!
(Link redirects to her Twitter, if you wish to follow her)
6. Geronimo Stilton (LOTS of 'em)
Ok, ok, hear me out. I know it looks weird. These books taught me to read. My mum would sit in bed with me and read me these books while I looked at the pictures and all the crazy fonts until I was able to do that on my own. It's great children's literature, with plenty of originality and a wide cast of characters. I have so, so many fond memories of this series that I couldn't avoid mentioning it here.
---
Pretty varied list this week, isn't it? I tried to save all the LGBTQ+ books for next month, which I am so eagerly anticipating! A couple of runner-ups that will definitely crop up in the future, but I still wanted to mention here are:
Heartstopper by Alice Oseman
Sunstone by Stjepan Šejić (I'm so looking forward to his other projects as well!)
Punderworld by Linda Šejić
The Witcher by Andrzej Sapkowski
Lots more, but I'd be here all day…
What are your #SixforSunday? Let me know in the comments below!